VIEW OUR COMMERCIAL
As seen on TV

CHOOSE THE EASY OPTION FOR YOUR INSURANCE, WE'LL GET YOU A QUOTE IN NO TIME AT ALL.

11 Must-Have Camper Van Gadgets
Whether you've got a retro V-Dub or an all-singing-all-dancing Hymer, nothing beats hitting the road in a camper van. You might be short on space, but that's no reason not to take some home comforts along with you to make your trip even better. Here's our pick of the 11 must-have camper van gadgets that let you enjoy every moment even more.
1) Swedish candle log
Forget about those scratchy portable BBQs that are bad for the planet. Every cool camper van needs a Swedish candle log instead. These are logs with notches down the side and a hollowed out middle. The Swedish Army developed them as a method to cook in the snow. Light a fire inside and it will burn for hours providing heat and somewhere to heat your beans. Find out how to make one here.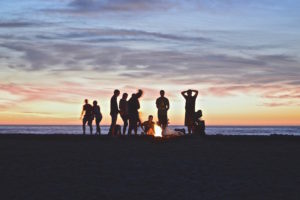 2) Air filled lounger
Chill and relax with no need to huff and puff with an air-filled lounger. They're ideal for lounging at the beach or campsite. You can even fall asleep on one. Packing neatly into a 1kg bag, all you need is a little space to run and inflate it. Hold the bag open, run around to fill the chambers with air, then twist and close and you're ready to loaf. See how easy it is here.
3) Solar portable power hub
You might be escaping the rat-race and going off-grid for a couple of days, but that doesn't mean you want to leave your smartphone behind. This camper van gadget is a must, especially if you've got teenagers in tow and there's no hook-up at your site. When it's connected to a solar panel, the Goal Zero Lighthouse is a multi-tasking miracle. It provides light up to 400 lumens for late-night games of Scrabble and has a 1.5A USB output to deliver enough power to recharge phones and tablets.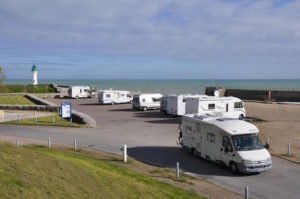 4) Compression bags
If you don't have enough storage in your camper van to take all the clothes you'd like, compression bags are an elegant solution. Letting you carry more stuff in less space, it also helps keep dirty or wet clothes separated. And that can reduce the chances of you heading out in the same socks you wore yesterday.
5) Gas stovetop toaster
What's more English than toast and marmalade for breakfast? Enjoy your bread grilled to perfection when you're away with a stovetop toaster. It neatly folds to squeeze into the smallest spaces for easy packing and opens to hold up to four slices at a time.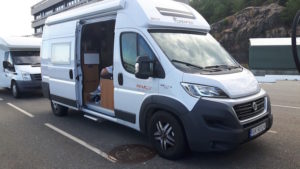 6) Portable electric shower
If your campervan doesn't have a shower and you don't want to restrict yourself to sites with facilities, a compact electric shower is what you need. Choose one that can be charged by USB (and pair with a power hub) for a refreshing jet of warm water whether you're at the beach or festival. You can even use it for the dog or to clean your bikes too.
7) Lightweight, portable hammock
Be the coolest king of the swingers with a lightweight hammock. Neatly packing down to maximise space in the van, all you'll need is to find two trees (or one long branch) to string it up to.
8) Wacaco Nanopresso
Travels in your camper van do not mean going without your favourite shot of morning caffeine. Small but perfectly formed, the Wacaco Nanospresso delivers an impressive 18 bars (261 psi) of pressure for delicious coffee on the go. All you need to do is add boiling water and pump by hand.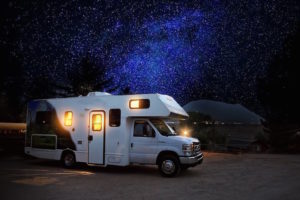 9) Park4Night App
Get recommendations on where to camp, including free sites, with the Park4Night app. There's a free or paid-for version, and you can search to find what's near you.
10) Manual food chopper
If you're the sort of camper that is not satisfied with just a tin of beans and packet of crisps, add a manual food chopper to your kitchen. That way you can chop, blend and puree to your heart's content without the need for power.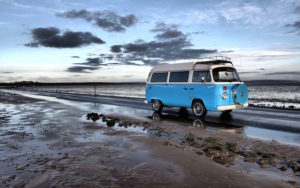 11) Camper van insurance
Not strictly a gadget, camper van insurance is none-the-less an essential for guaranteeing your road trip is the best it can be. With it, you can hit the road safe in the knowledge everything that could go wrong is covered. From roadside assistance in Europe to peace of mind expensive kit is covered against theft, the best camper van insurance lets you relax and enjoy every minute.
From festival fields to the wilderness, your campervan is the best way to get out and about exploring this summer. Enjoy a road trip in comfort with camper van gadgets that make your four wheels a real home from home.