VIEW OUR COMMERCIAL
As seen on TV

CHOOSE THE EASY OPTION FOR YOUR INSURANCE, WE'LL GET YOU A QUOTE IN NO TIME AT ALL.

Motorbike Insurance Checklist
If you're looking for motorbike insurance quotes, use our handy checklist to get the right cover at the best price.
1) What sort of cover do you need?
There are three main levels of motorbike insurance:
Third party cover. This is the minimum level of cover you're required by law to hold. It pays out to anyone who is injured or whose property is damaged by you on your bike. But it won't pay out any money to you.
Third party fire and theft. This covers the above and also pays for a repair or replacement motorbike for you if yours is damaged by a fire or is stolen.
Fully comprehensive motorbike insurance. This covers the above, but also pays out for a repair or replacement bike for you if you have an accident that is your fault.
2) Next, do you need European cover?
If you plan on taking your motorbike on a road trip abroad, make sure your insurance covers you at home and in Europe.
3) Has your motorbike been modified in any way?
It's important to tell your insurer if you've modified your motorbike in any way. If you don't, your cover could be voided.
4) Do you use your motorbike for business?
If you use your motorbike for work, for example, to get to meetings or to carry supplies or deliveries, you'll need to specify business use. If you only use your motorbike to get to work, specify leisure and commuting only. Or if your motorbike is strictly for off-duty days, you can opt for leisure use only.
5) Are your leathers and helmet included in your policy?
Kitting yourself out in full leathers and helmet can be a significant investment. You can insure your leathers and helmet against damage at the same time as you cover your motorbike, for great value peace of mind.
6) Do you need motorbike insurance for younger riders?
Like car insurance, motorbike insurance premiums can be substantially more for younger riders. That's because they have less experience and are statistically more likely to have an accident. You can still get a great value price on your cover with actions like shopping around, tailoring your cover to your specific needs, and opting for a higher excess. Talk to your Easy2Insure for more advice on lowering your premiums.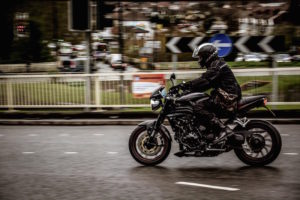 7) Have you got a classic motorbike?
You'll need a specialist policy to insure a classic motorbike. That's because repairs could be more costly and, as classic motorbikes can appreciate in value, you may need an 'agreed value' policy. The good news is that specialist classic motorbike insurance companies understand the care and attention you lavish on your pride and joy. So premiums for classic motorbike insurance can be surprisingly good value.
8) Do you need breakdown cover?
When you buy your motorbike insurance stop to think if you need breakdown cover too. It can be cost effective to buy it at the same time in a bundle deal. And it will give you peace of mind that if your motorbike does break down on a cold dark night, someone will be on their way to help get you home with minimum fuss and hassle.
9) Have you given your insurance company the correct information?
It's essential to give your insurance company the right information or your motorbike insurance can be voided. If you've incurred speeding penalty points in the past and are not sure if they are spent, you can check it here.
10) Are you paying monthly?
It's always best to pay for your motorbike insurance annually if you can. Monthly payment plans can cost you more in the long run.
11) Finally, have you shopped around?
Yes, it's easiest to just accept the renewal quote from your current insurer. But did you know this could cost you £hundreds in the longer term? Insurance companies rely on us being too busy to get new quotes when it comes to renewal time and can charge you more. Instead, take the time to contact as many insurance companies as you can so you can see which offers the best price deal. A price comparison website can be a good place to start, but you'll need to be very clear that you are actually getting the cover you need. Alternatively, save time and money by asking a specialist insurance broker, like Easy2Insure to negotiate a deal on your behalf.
Get cheap motorbike insurance
We make it Easy2insure your motorbike, no matter what your needs. Call us for free on 0800 917 9522 and talk to one of our friendly team or get in touch.