VIEW OUR COMMERCIAL
As seen on TV

CHOOSE THE EASY OPTION FOR YOUR INSURANCE, WE'LL GET YOU A QUOTE IN NO TIME AT ALL.

Red Weather Warnings and Car Insurance
In the UK we've been told to brace ourselves for more extreme weather conditions. And means more potential travel misery. Summer temperatures turn up the heat to melt our roads, while flash floods and blizzards can bring the country to a halt overnight. Inconvenient: yes. But can red weather warnings also impact on your wallet by invalidating your car insurance? We investigate if you are safe to hit the road when there's a red weather warning out:
What is a red weather warning?
In the UK, the Met Office issues official warnings to the public if the forecast weather could impact on travel and everyday life. The sorts of weather conditions that can lead to weather warnings are:
Rain
Thunderstorms
Wind
Snow
Lightning
Ice
Fog
Snow
Weather warnings come in three categories: yellow, amber, and red. A red warning is the most serious category, with a potential to seriously disrupt travel and day-to-day life. A red warning is considered to pose a danger to life and means there's a high likelihood of damage occurring to buildings.

How common are red weather warnings?
Red weather warnings are reserved for the most seriously dangerous weather. There have been 10 red weather warnings since the system was introduced seven years ago.
Can I drive in a red weather warning?
Yes. The official advice is to only drive during a red weather warning if the journey is absolutely necessary. That's because a red weather warning means there is a high likelihood of disruption to roads and travel and conditions are likely to be very hazardous. While you're being advised to stay at home, there is no requirement that you do so.
Will my car insurance cover me if I have an accident during a red weather warning?
In almost every case, your car insurance will cover you if you have an accident when a red weather warning has been issued. For complete peace of mind, double check the small print or speak to your broker or insurer.
There's also a big BUT.
Your car insurance will cover you if you drive during a red weather warning as long as you are considered to be driving with care. If you have an accident and your insurance company suspects your driving was dangerous they could refuse your claim. That means you may need to adjust your driving style to match the weather conditions. Take extra care and slow down, especially at roundabouts, junctions, and traffic signals.
Other things to think about to make sure your insurance is not voided in cold weather
If a weather warning has been issued for cold and ice, you'll probably need to defrost your windscreen. It can be tempting to nip out to the car, turn it on to start defrosting, and then head back into the warm. But beware: your insurance company will not pay out if your car is stolen while the engine is on and you are not with your car.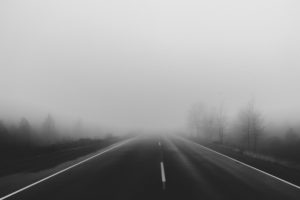 Staying safe in extreme weather
While your insurance should cover you if a red weather warning is issued, it is a good idea to take a few extra precautions if you are heading out. These can help to prevent an accident from occurring and keep you safer if the weather does catch you out:
Check your tyres. Make sure you have plenty of tread for maximum grip on icy or wet surfaces. Check the pressure too, as over or under-inflated tyres increase your stopping distance significantly.
Put an emergency kit in your car if very cold weather is forecast. You should include a shovel (to dig your car out if it gets stuck in a snow drift), and extra warm clothes and blankets. Pack water and food too, in case you are trapped in your car overnight.
Make sure your screen wash is topped up (and not frozen). Salted roads get very mucky and it can become difficult to see clearly to drive if your washers are not working properly.
Buy great value car insurance
Whatever the weather, you can be sure of a great value deal on car insurance when you get in touch with our friendly team at Easy2Insure. We are an independent insurance broker, so we shop around the UK's best insurance companies to negotiate the cheapest deal on your behalf.
We offer competitive quotes for drivers of all ages and all cars, including classic cars and modified cars. For complete peace of mind, ask us to include breakdown cover in your quote, so you know help will be on its way if something does go wrong on the road. Call us on 0800 917 9522 or get a quote.