VIEW OUR COMMERCIAL
As seen on TV

CHOOSE THE EASY OPTION FOR YOUR INSURANCE, WE'LL GET YOU A QUOTE IN NO TIME AT ALL.

Why horsebox insurance is a good idea
 Whether you're taking your horse to the vet or a show, you'll need a horsebox to get there. You can choose between towing a trailer behind your vehicle or buying a motorised horsebox. Depending on what you have, you'll discover various regulations apply regarding licences and insurance. With different rules depending on the weight and type of your vehicle and when you passed your driving test, it can seem complicated. Use our guide to find out everything you need to know; from what driving licence you need to if you need horsebox insurance.
Is horsebox insurance required by law? Towing a horsebox behind a vehicle
If you tow a horsebox behind your car or van, you don't have to have separate horsebox insurance by law. You do have to have valid insurance for the towing vehicle though.  Also, be aware that you are normally only covered third party for trailers with your standard vehicle insurance. That means that if you have an accident, the other party's costs will be covered. However, you will not receive any payment if your horsebox, or the kit inside, is damaged or written off.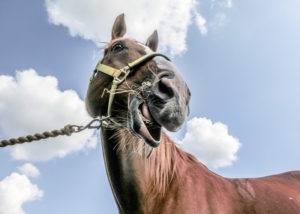 For more peace of mind, you need dedicated, fully comprehensive horsebox insurance. This can be tailored to your specific needs to include valuables transported inside the box, such as tack or clothing, as well as covering the trailer itself. Cover for driving in Europe can also be included.
Bear in mind that your horse is not covered whilst it is travelling under horsebox insurance. For that, you'll need separate equine insurance.
Double-check your policy to see if you are covered when driving off-road, for example on a showground. It's also worth checking if tack and other contents are covered against theft when you're parked at a show.
Is horsebox insurance required by law? Driving a motorised horsebox
If you drive a motorised horsebox, for example, a vehicle that has the horse or living quarters immediately behind the cab, you need specialist vehicle insurance. If you don't have the right cover for the size and weight of horsebox, you will be breaking the law. You can be fined and receive penalty points on your driving licence.
Remember, your horsebox must be insured even if you don't intend to drive it and it is just parked by your stable. The only time you don't need insurance is if the horsebox has been registered as off the road (SORN).
You must hold a minimum of third party insurance for your motorised horsebox. Remember, this only covers the other party if there is an accident. Choose third party fire and theft if you want to be compensated if your horsebox is stolen or damaged by fire. If you want to be covered if your horsebox is damaged in an accident as well, you'll need to select comprehensive cover.
Is breakdown insurance worth it?
The thought of breaking down in our car is worrying enough. If you've got your precious horse at the back, it really can be a nightmare. With horsebox breakdown cover you can rest assured you can quickly call for help from professionals. If your car or box can't be fixed at the roadside, you'll have peace of mind you and your horse can be transported to somewhere safe. And you'll know that there will be no unexpected bill to worry about.
Buying your breakdown cover with your horsebox insurance can mean bundle-deal savings. Speak to your broker to find out more.
Your other legal responsibilities when you tow a horsebox
It's essential to find out if you can or cannot legally tow your horsebox. If you do accidentally tow a horsebox without the right type of driving licence, you will be breaking the law and your insurance will be invalid. That can leave you with fines and penalty points if you are caught. And if you are unlucky enough to have an accident, it will leave you hefty bills to pay.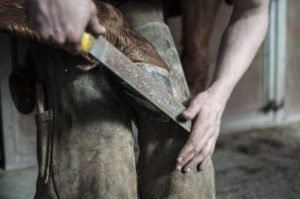 Current legislation: driving licence requirements
The current legislation on what you can tow is based on when you passed your test and what you want to tow.
If you passed your driving test before the 1st January 1997 then you can drive a vehicle and trailer combination with a combined weight of up to 8.25 tonnes. Your driver's licence will cover this, without any need for a special operator's licence.
If you passed your test on or after 1st January 1997, you can drive a vehicle with a weight of up to 3500kg and attach a trailer of up to 750kg, without a special licence provision. You can tow a trailer over 750kg as long as your vehicle and trailer combined do not weigh over 3,500kg.
However, if you are driving a combination that exceeds those weight limits, you are required to apply for a Category B + E entitlement. This will mean you have to take an additional driving test.
What is an operator's licence and do I need one?
If you are only transporting your horse as part of your hobby, you will not need a special operator licence. Be aware that you may need an operator's licence if your activity could be considered part of a business.
For example:
If you are transporting horses for reward, you'll need an operator's licence. For example, you are taking someone else's horses to a show and they are paying you for the service. You'll need an operator's licence even if it is just for one day.
If your equestrian activity is more than a hobby. For example, if prize money and sponsorship means your income from equestrian activities is higher than your outgoings.
It's useful to remember that if you pull your trailer using a 'dual-purpose' vehicle, such as a 4×4 that can carry goods and passengers, then this is exempt from operator licensing.
Sticking to the speed limits with your horsebox
If you break the speed limit in your horsebox, you could face fines and penalty points on your licence. Here's what you need to know:
If you are towing a horsebox behind a vehicle with a combined weight up to 7.5 tonnes the speed limit on single carriageways is 50mph, on dual carriageways is 60mph and on motorways is 60mph.
When you are driving a horsebox with no trailer up to 7.5 tonnes, the speed limit on single carriageways is 50mph, on dual carriageways is 60mph and on motorways is 70mph.
If you are driving a horsebox over 7.5 tonnes with or without a trailer, the speed limit on single carriageways is 40mph, on dual carriageways is 50mph and on motorways is 60mph.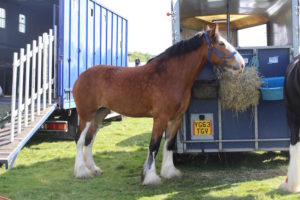 Buy cheap horsebox insurance for peace of mind
It's Easy2 find the right horsebox insurance at the best price at Easy2Insure. Call our helpful team on 0800 917 9522 or get a free quote.
This article was first published in April 2015. It has since been completely updated to give you the latest and best information.