VIEW OUR COMMERCIAL
As seen on TV

CHOOSE THE EASY OPTION FOR YOUR INSURANCE, WE'LL GET YOU A QUOTE IN NO TIME AT ALL.

Camera Insurance
If you've got a camera, have you thought about camera insurance?

Yes, if you've got the right smartphone, you can get a decent snap. But really good quality digital SLR cameras are now more affordable than ever. Although the prices have come down over recent years, buying a camera is still a sizable investment. And that's where camera insurance comes in. Whether you're a keen hobbyist or a professional photographer, you can give yourself some financial peace of mind with the right camera insurance.
Is my camera insured under my household insurance?
Although many people think that their home insurance will cover their camera equipment, often it won't. It pays to double-check – there's no point spending extra money if you already have the level of cover you need. But be very sure to look out for any exclusions that could mean a big shock when you make a claim.
For example, your home insurance may specify a maximum individual limit for personal possessions. This can often be below £1,000 or even £500. And that's unlikely to cover the cost of replacing your camera and kit. It's also worth double-checking whether the limits specified in your policy are for individual items or per claim, as it can be easy to mix up the two.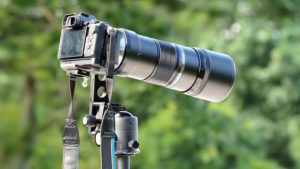 Another thing to watch out for is if your home contents insurance only covers your camera when it's in your home. Even if it does cover your camera away from the property, this could be limited to the UK-only. That's not much good if you're taking snaps on holiday abroad. Even if you take out separate travel insurance, your camera may not be covered. Most travel insurance policies also have relatively low individual limits for your personal possessions, so double check to avoid getting caught out.
What can camera insurance include?
If you've decided that you do need camera insurance, the next thing to decide is what sort of cover you need. Generally, camera insurance can cover the following:
Theft – at home and out and about, including from your car.
Accidental damage – for example, you drop it or accidentally spill a drink over it and it is damaged.
Worldwide cover – if you're taking a trip abroad, get peace of mind that your camera is covered wherever you go in the world.
Loss – whether it gets left behind on a bus or at your hotel room, you can insure your camera against loss. However, be aware that your claim may not always be paid if it is considered that you have been careless.
Camera accessories cover
You should look for bespoke camera insurance cover, which can be tailored to cover your camera and your essential camera accessories too. This could include cover for:
Lenses
Tripods
Bags
Filters
Dark room equipment
Laptops etc, if they are used in conjunction with your photographic equipment
What about vintage cameras?
Old cameras can be expensive to fix. If you have a vintage camera, look for specialist camera insurance to cover it.

Camera insurance for professional photographers
Camera insurance is important for amateur photographers, but for professional photographers it is essential. That's because household insurance does not usually cover business equipment. Again, it is always worth checking first to save paying out twice for the same thing. But even if your household insurance does cover cameras that are used as part of a business, it normally doesn't provide public liability and professional indemnity insurance.
Professional indemnity insurance for photographers
When you take out a professional photographers insurance policy it will include professional indemnity cover. This protects you financially you if you fail to produce photographs, for instance, if you cannot deliver wedding photographs due to an equipment malfunction. Your client can sue you if you don't supply what you promised. If you're a wedding photographer and consider the cost of the average wedding, you'll realise that this could amount to a substantial claim against you. If you have professional indemnity insurance in place, your insurance company will pay for your legal costs to defend your case and any financial payout that is awarded to the other party.  And it's not just about photos that fail to materialise. This insurance will also cover you for claims of copyright breach, and covers you against libel and slander claims.
Public liability insurance for professional photographers
The second extra area of cover included in professional photographers camera insurance is public liability insurance. This provides financial protection if you injure someone or damage their property while you are working as a photographer.
Public liability insurance pays the legal costs to defend your case as well as any compensation payment awarded to the other party.

Hired-in equipment
If you ever hire-in additional photographic equipment, you'll know that the hire-shop insurance can be pricey. Many professional camera insurance policies will automatically cover any hired-in equipment. Or you may be able to add this as an extension to your policy for a comparatively low fee. With this cover in place, if you do need to hire a lens for a specific photograph, you won't need to worry about what happens if you accidentally lose or damage it while you have it on hire.
Our top 3 tips to get the best price on your camera insurance for professionals and amateurs

Don't accept the first quote that you get. Always shop around to compare prices or ask an independent broker like Easy2insure to do the leg-work for you.
Consider increasing the excess (the amount you automatically pay if you make a claim.) Be careful not to raise this too high or you could negate the point of taking out insurance in the first place.
Look for bespoke policies, where you can pick and mix the level of cover you need. That way you won't be paying for anything you don't need

Getting a great value deal on camera insurance from Easy2Insure

Whether you're a keen amateur or professional, make sure your camera and accessories are fully insured. We can talk through your options to make sure you're covered whenever or wherever you're taking snaps. And we'll shop around to findthe best price deal on your camera insurance too. Call our helpful team at Easy2Insure on 0800 9179522 or get a quote.