VIEW OUR COMMERCIAL
As seen on TV

CHOOSE THE EASY OPTION FOR YOUR INSURANCE, WE'LL GET YOU A QUOTE IN NO TIME AT ALL.

Getting your classic motorbike ready for spring
The snow's gone, the rain (although still making an appearance) is sporadic and at least a little warmer, and the call of the open road is compelling all us two-wheelers to rip off the dust covers and get our bikes ready for the spring. Classic motorcycles are hugely popular in the UK, and with those gorgeous twisty country lanes and the spring sun on your back, is there any better way to spend a Sunday afternoon? From classic bike insurance to checking your tyres, we give you our top 9 tips to make sure you and your classic motorbike are ready for spring.
1. A full top-to-bottom check
If your classic bike has been tucked away, safe and warm in the shed over winter, it's time to do a full top-to-bottom check to make sure it's roadworthy. Classic bikes and their older Vintage cousins can be a little bit finicky when it comes to waking from their winter slumbers, so they may need a full service to make sure they're going to be ready to go when you are. Start off with a 'walk-around', checking everything is where it should be, that bolts are tight (especially wheel nuts), and that there are no perished or damaged hoses, fuel lines, or frayed cables. If your bike hasn't been maintained properly and a mechanical fault is found to be the cause of an accident, bear in mind that your classic bike insurance may not pay out, so it's in your interest to make sure your beast is in tip-top condition.
2. Tyres
The great classic bike tyre check is usually a good hard kick with a size 10 boot, but if the bike has been tucked away all winter there's a good chance that the tyre pressures are well below what they should be for safe riding. Don't forget that not only is it a safety issue, but underinflated tyres can also affect the performance of your bike.
3. Petrol
Modern petrol has a limited lifespan, so if your bike has been laid up for more than three to four months, you are going to have to drain the tank and put in a fresh couple of gallons of unleaded. Don't forget that the carburettor may also need to be taken apart, drained and cleaned.
4. Oil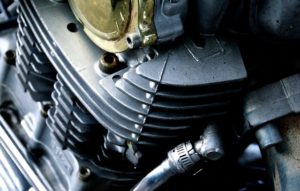 While oil doesn't degrade in the same way that modern petrol does, it can still become contaminated. The biggest problem with overwintering a classic bike is if moisture gets into the engine and emulsifies the oil. You'll be able to spot if this has happened as the oil in the indicator window will have a milky appearance. If you notice that, or if the consistency of the oil on the dip stick is watery and thin then your trusty steed could probably benefit from an oil change before you hit the road.
5. Chain
The final drive chain delivers the engine power to the back wheel, and is one of the most important parts of the bike. It's also a consumable, and subject to heavy (and surprisingly rapid) wear if it isn't looked after. Check the condition of the chain and if necessary, take it off and give it a warm oil 'bath' (a soak in warm oil for a couple of hours). This can revive an old, rusty chain, but if it's worn beyond repair then replace it. Don't forget to check the sprockets for any 'hooking' on the teeth that would indicate they're worn too. It's usual to replace both chain and sprockets together.
6. Polishing up the paintwork
Once you've done all the mechanical checks, it's time to get the bike looking its best with a good clean and polish. This also gives you the opportunity to check the bike over for any rust, flaking paint, or other issues. Our top tip: Try using scrunched-up baking foil to clean the down-pipes: it will bring those exhaust pipes up a treat!
7. Riding gear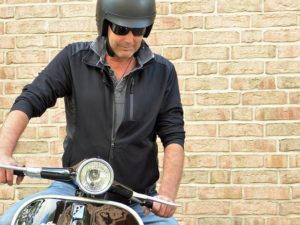 Now that the bike's all checked over and ready to go, it's time to look at your riding gear. While spring may be full of sunny days and glorious blue skies, it's still a pretty unpredictable time of year, and a chilly wind or a sudden downpour can put a dampener on your Sunday afternoon bimble. As with the bike, start at the bottom and work up. Check your boots and if necessary, get some waterproof spray (or dubbin if they're leather) and give them a good covering. Make sure your protective gear is in good condition – if you have armoured clothing then don't forget to take the armour out and check it over as it can degrade over time.
Give your gloves a bit of TLC with some leather treatment or more of that waterproof spray. It's well worth investing in a pair of battery-powered heated gloves for the spring, especially if you're planning on doing any long-distance riding. The temperature and wind chill can quickly make your hands uncomfortably cold, which in turn can affect your ability to control the bike.
Finally, check your helmet. If it's been dropped then you'll need to replace it. Give the visor a good clean, and evict any spiders that may have taken up residence over the winter!
8. How rusty are you?
Be honest with yourself. If you haven't been out on the bike for a while then you're going to be a little bit rusty. Your reaction times are going to be slower, and your awareness will need to be 'sharpened' back up. Our top tip: Take a refresher riding course with an organisation such as the Institute of Advanced Motorcyclists. Not only can they help you to become a better rider, but completing an advanced riding course could help bring down the cost of your bike insurance too.
9. Classic bike insurance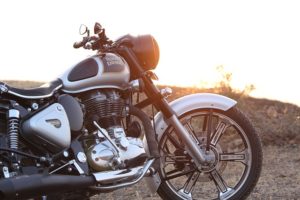 As it's the time when most classic bikes are back out on the road, spring is usually the time when owners either have to renew their existing insurance, or are thinking about looking around for a better deal. Not all insurance providers offer classic bike insurance, so you may need to look for specialist providers who understand the quirks and foibles of owning 'old iron'.
Classic bikes are usually (but not always!) owned by older riders with more experience, a better driving record, and a clean licence. They also do fewer miles so look for packages that provide reduced rates for limited mileage, discounts for older riders, and that all-important no claims bonus protection. Easy2Insure can help you find cheap classic motorcycle insurance at a price that's right.
Getting back out on the road – enjoy yourself!
We've covered just about everything, so the only thing that's left to do now is to kit up, throw your leg over, and hope the little devil starts! There's no feeling in the world like the open road and the wind in your hair, so pick a sunny day, top up your tank, and enjoy your ride!